Filter by Category
8th grade
Super Drawing & Painting I
with Kelly Henrikson - 124

Feb 9, 2019 at 11 am

, runs for 5 weeks
11:00 - 11:50 Grades: 2nd - 8th
Do you love to doodle, paint or draw? Then this art class is for you. Learn to be a fabulous artist like Bob Ross. Students will learn how to draw and paint what they see utilizing basic shapes and lines to create objects and different subjects in our lives. Students will explore many different art mediums such as pens, markers, pencils, color pencils, watercolors, acrylics, and pastels to create their compositions. All supplies included.
Will run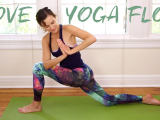 Yoga for Everyday
with Ashley Oliva

Feb 9, 2019 at 10 am

, runs for 5 weeks
10:00 - 10:50 Grades: 3rd - 8th, Adults
Learn fun yoga poses, stretching and breathing techniques to increase balance, coordination, and stamina for sports and everyday life. Learn poses for relaxation, focus, and concentration.
No prerequisite - this class is for all students interested in learning the amazing world of yoga. All students are asked to bring a yoga mat or beach towel, water bottle, and wear loose clothing. This class is open to adults, too!
Will run